Good Day Sir, May I Interest You In....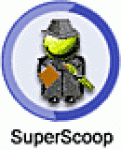 The other day I realised that Palace was missing something. You might think it has just about everything in the way of characters I mean there's flirts, snerts, liars, psychos, drunks and...and oh yeah...really nice normal people who like a chat. But Palace has a blind spot. I mean, where are all the service personnel? A Palace is a sort of virtual building after all. So where are the essential services? Where are the other classic characters?
So with this in mind, I have decided to fill this much needed gap in the market. Progress has been good so far and my energetic morning, flitting from Palace to Palace, trying to sell double glazing was most rewarding. In the afternoon I became Palace's only Jehovah's Witness and handed out enlightening leaflets in Avatar Palace before a quick visit to Ties That Bind. This was extremely good fun and I think they only tied me up and spanked me as a display of friendship.

Selling palace 'Insurance' was my next adventure. It was the sort of Insurance that ensures that your Palace doesn't get burned down. I didn't actually sell any 'Protection Insurance' but I did get banned eight times (my best score yet) and I did strike up a remarkable conversation with a virtual criminal who wants to go into virtual business with me selling virtual stolen cell phones. So if your cell phone av went missing recently...I know where I can get one..know what I mean mate? I think it was shortly after this that I found The Lord and became a Born Again Christian Cult Leader for a few hours, travelling from Palace to Palace, standing on the gate and shouting incomprehensible texts from the bible. The results were remarkably good and I now have twelve devoted followers. If all goes to plan we are going to organise a Palace Event. Look out for it in the Palace Event calendar. We are going to have a barbeque, mass orgy and suicide later in the year. Everyone Welcome! Bring A Bottle.

Anyway, must go. So much work to do.
Today I am the Official Palace Inspector (yes that WAS me!). If your palace rooms are too many pixels wide you are in big trouble pal! And where is your Fire Exit?